2023 Rate Increase
The San Miguel Power Association (SMPA) Board of Directors elected to implement an increase to the SMPA electric access charge with no change to the kWh energy rate for all electric accounts, including all rate classes and lighting tariffs. For most residential consumers, the increase will amount to $2 per month on the access charge, or $24 per year above the current charge.
With this action, SMPA has kept the increase to 1.1% despite inflationary cost pressures through careful financial planning, deferred revenue, and delayed major capital projects. The new rate went into effect January, 2023.
View and download the access fee adjustment below.
---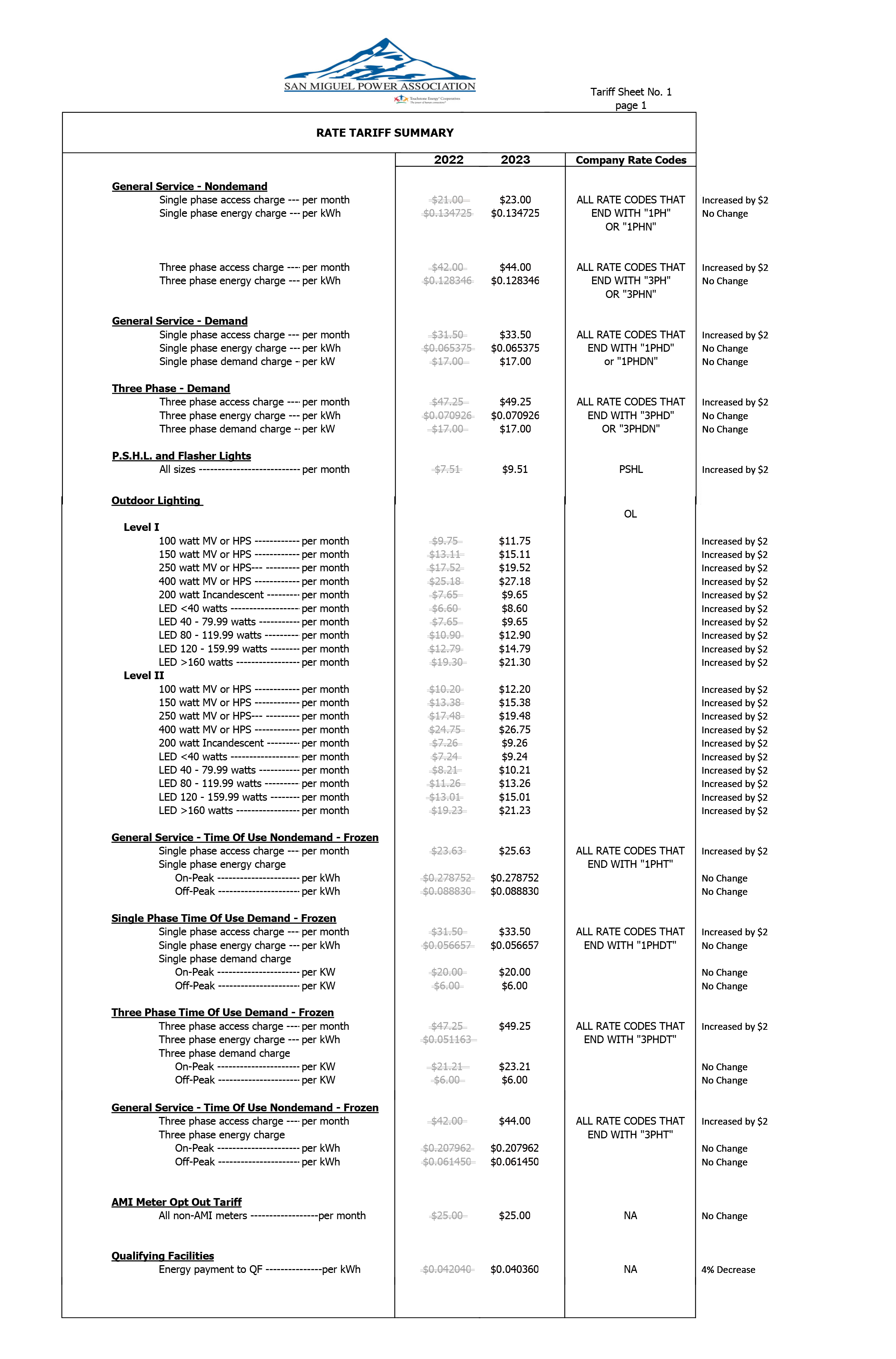 Complete Current Rate Tariff Sheets
2023 Rate Proposal Frequently Asked Questions (FAQs)
Although the energy rate is staying the same, the access charge is proposed to increase by approximately $2 per month or $24 per year above the current charge for all consumers, starting in 2023.
At the beginning of 2020, SMPA raised the monthly access charge by $1. Before that, SMPA had raised its access charge by $2 in 2018.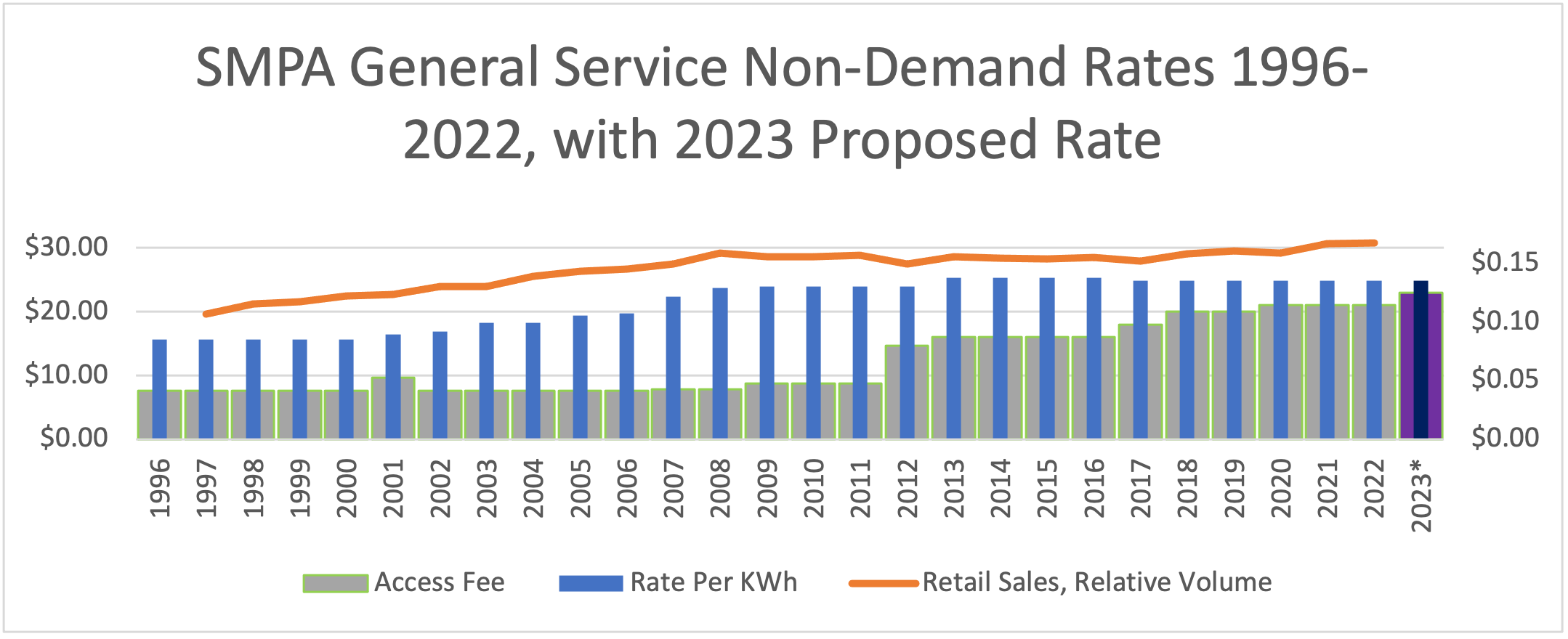 The energy rate is an amount charged per kilowatt-hour (kWh) of electricity. The billed amount varies with the amount of electricity used each month. The current rate is $0.134725 per kWh. There will be no change to this rate next year.
The access charge, however, is a fixed monthly fee that each member must pay regardless of how much energy they use. This fee covers costs that SMPA incurs even if it sells zero kilowatt hours. It is used to recover expenses such as:
Trucks, wires, transformers, power poles and labor needed to build and maintain the electric distribution system
System investments that improve both capacity and reliability
Insurance, interest, depreciation and taxes
Proposed increases to this component of the bill are defined by a member's rate class. Please see the above chart to locate yours.
SMPA is anticipating a wholesale rate increase in the fourth quarter of 2023. Inflationary pressures remain a challenge as do other potential changes in our power supply costs, such as possible increases to the power transmission charges billed to SMPA by our wholesale power provider, Tri-State. Fire mitigation, vegetation management, and large capital projects are also items that add to SMPA's annual expenses.
Through strategic financial planning and the use of deferred revenue, SMPA has been able to buffer against recent inflationary pressures. SMPA is realizing less interest expense than we had anticipated due to the need to defer some large capital projects. Finally, over the past few years, SMPA has experienced a modest load growth, due to population growth in our service territory. This increase in electricity sales has helped strengthen SMPA's economic bottom line.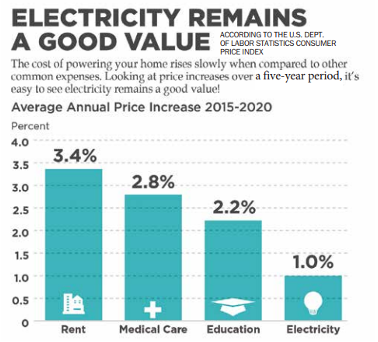 While the SMPA board of Directors has discretion on the timing of a Member Dividend retirement, SMPA generally cannot circumvent the obligation to return Member Dividends to the membership. Returning Member Dividends is fundamental to our business structure, as a member-owned cooperative.
While increasing the energy rate might incentivize some people to conserve energy, such a move forces the cooperative to rely on volumetric energy sales in order to cover fixed expenses. Currently, the SMPA Board of Directors seeks to further the cooperatives efforts to promote more energy conservation, efficiency and renewable energy. Matching fixed charges with fixed costs such as materials, labor, tools, and maintenance, keeps SMPA's financial interests in line with this strategic objective.
The access charge is fixed, but there are still many actions member-consumers can take to reduce their monthly energy expense. These can range from simple home projects like caulking windows and replacing incandescent light bulbs with LEDs, to more involved projects, like insulation or replacement of appliances. SMPA offers numerous rebates to help with these types of upgrades.
Many members in SMPAs territory are reducing their total monthly budget with the replacement of a gasoline-driven vehicle with an electric vehicle (EV) or other electric device that may increase the electric bill slightly, but which eliminates other monthly expenses in order to realize a net savings. Please call (970) 864-7311 if you are interested in exploring options.
The $2 access fee increase will noticeably raise the percentage of fixed-cost responsibility for these outdoor light accounts. Historically, outdoor lighting consumers have benefitted from the lower rates which have been socialized through other rates. A recent cost-of-service study shows that reducing subsidization of these accounts will provide more stability and equity among all ratepayers.