Body

---
Totally Green is San Miguel Power's newest and simplest way for you to use electricity from 100% renewable sources. Sign up once. The voluntary 1¢ per kilowatt-hour bill adjustment automatically tracks your electricity use and makes the needed investment.
The return on this investment is a lower carbon footprint for you, and more green projects for your community. Now, every drop of electricity you use is coming from renewable sources like solar wind, and hydro.

How Much Will It Cost?
That depends on where you live and how much energy you use.  Check this simple chart or download a more detailed version.
Please note: These figures are estimates only.  Your actual charge will vary.
 Estimated "Totally Green" Cost per Average Monthly Bill


Learn about Renewable Energy Credits (RECs)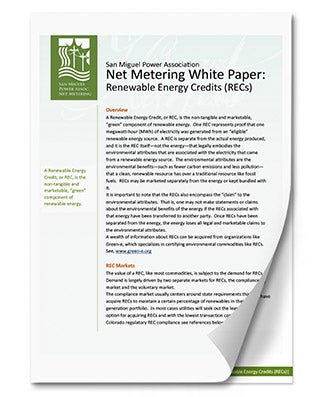 Totally Green uses Renewable Energy Credits to buy renewable energy.
Learn more in the SMPA White Paper: Renewable Energy Credits (RECs)